Bring Happiness Habits to Your Workplace or Organization
Contact Happiness Habit & Michele Moore: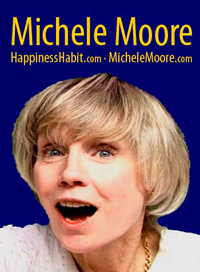 We are traveling, feel free to telephone us:
404-934-1755* cell or
* We continue to experience bizarre telephone and email disruptions due to criminal activity - See http://StopSuppressingHappiness.com for details.
We look forward to speaking with you and to sharing Happiness Habit wisdom widely. Many thanks for your interest in our programs!
Michele Moore and the
Happiness Habit Team